It was the first stop of my family's Macau group tour on December 30, so naturally I expected it to be one of the best spots to welcome tourists to this Chinese region. But it was 11 a.m. and none of the attractions or restaurants was open, except for the food carts outside the entrance, and a few vending machines distributed around the park.
Our tour guide gave us only 25 minutes to spend at Fisherman's Wharf, so we hung out mostly at the entrance area. My initial impression of the place was that it's a deserted relic of a once thriving business district or an old cultural neighborhood slowly being developed into a modern location, like Singapore's Ann Siang Hill. But as soon as I noticed the attractions that were gathering dust and there was a dire lack of employees, I realized it was an amusement park speeding downhill like a killer Six Flags rollercoaster.

My fellow tourists were busy doing what tourists do best—taking hundreds of photos of themselves with every single wall, building, post, sign and artifact as a backdrop. I followed suit. What else was there left to do?
One of my favorite creative minds, Stefan Zwanzger of thethemeparkguy.com, visited Fisherman's Wharf in 2009 and gave it an honest 0 out of 5 stars: "Congratulations to the owners for setting up an ingenious website representing a project with such an overall incoherence that it still causes me sleepless nights. This place is like one of the classic B-movies of the '50s: it's so bad that you've got to love it!"
Ditto, I say. I wish I saw the paintball zone, though. Stefan describes it as a "US-Arabia-clash-themed paintball zone starring Osama Bin Laden, Saddam Hussein and Jesus Christ." Now that would've been a hoot.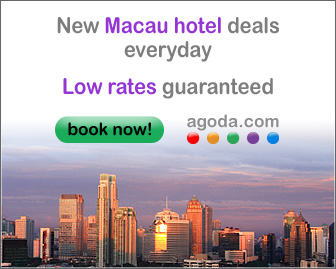 Fisherman's Wharf is located at Avenida da Amizade e Avenida Dr. Sun Yat-Sen, Macau Peninsula