Yoga Anywhere: Siem Reap
It started as an Instagram project. I wanted my travel photos to stand out from the thousands of snapshots you'd see online—especially with professional photographers coming out with more eye-catching compositions.
While on holiday with family at Subic Bay Yacht Club in June, I asked my sister to take photographs of me doing my favorite Yoga poses with the yachts as the backdrop. The result: #YogaAnywhere. As I expected, I wasn't the first to come up with this idea. Clicking on this Instagram hashtag led me to connect with other Yoga enthusiasts all over the globe—from New Yorkers documenting their backyard Yoga progress to back-bending beach Yoginis.
But this project wasn't just about showing off my flexibility; it was about spreading the word on Yoga's physical and spiritual health benefits.
My little Instagram project piqued the interest of friends and even strangers who wanted to learn more about Yoga. Soon I convinced a number of people to give Yoga a try.
Last week I took this project to Siem Reap, Cambodia, where I went on a five-day vacation with my best friend Jackie, who is visiting from the Netherlands.
"So did you do the Eat, Pray, Love thing?" asked my Australian friend Aprille via Viber after I returned from my trip.
I rolled my eyes. "More like the Tomb Raider thing," I said as I looked back at the many temples I trekked and explored with Jackie.
I mean no offense to the fans of author Elizabeth Gilbert. Her memoir-turned-movie heightened the wanderlust bug across the globe and led many other empowered women to seek spiritual enlightenment outside of their comfort zones.
But my purpose for traveling goes beyond this stereotype path. Spiritual enlightenment and the itch to travel don't come in a one-size-fits-all package. There's more to soul-searching travel than just donning a Kaftan and heading to India to meditate.
"Anton and I were supposed to go this year," I told Jackie when we booked our budget Cebu Pacific flight a few months ago. "Now I just need to get away from it all."
"And Katie, we haven't even gone on a trip out of the Philippines together, just you and me," Jackie pointed out.
When traveling, no matter how much itinerary and research you prepare, you never know what stories and experiences you'll come home with. All I wanted was to bond with Jackie and visit the Angkor Wat as recommended by the likes of Lonely Planet and National Geographic.

But I came home with more than just photographs of Aspara stone carvings and tanned legs that felt sore from climbing steep staircases of centuries-old temples. With the permission of temple guards, I found my center and did Yoga in almost every rubble I visited. I was even able to convince Jackie to give Yoga a try.
Most of all, I found some healing. Being away from the Philippines for five days was a relief. There were no tall buildings or modern structures in Siem Reap to trigger my post-traumatic stress disorder and anxiety attacks.
I didn't have to explain myself to curious people asking insensitive questions about the tragedy that broke my spirit. I didn't have to face the pressure from "friends" imposing a schedule for my healing.
I was my unguarded self with my best friend, who I see only once a year. We talked about how far we've come since we were fresh college grads trying to land a Schengen Visa so that we could start exploring the world.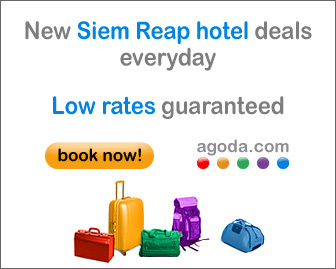 Aside from our five-day temple run, we explored Siem Reap with no plans—we simply followed our guts and our hearts. We paid $3 to have our feet "cleaned" by janitor fish in an aquarium in Pub Street. We shared travel stories with backpackers whose names I have already forgotten. Jackie taught the 9-year-old brother of our innkeeper to sing a song in English and French, while I went on a joy ride with a local who took me to the town carnival.
"How was your Cambodia trip?" asked Anton's mom, Cherry, who was texting me from Michigan days after I returned to the Philippines.
"Great!" I said. "I've decided I want to become a Yoga teacher."