About
Welcome to Kate Was Here, the blog of a quirky, curly, solo female traveler from the Philippines.
I quit my full-time job as fashion and beauty editor back in 2007 to go freelance and fulfill my ultimate dream: a multi-faceted career of lifestyle journalism, modeling, acting, and my passion for travel.
After a soul-searching experience in New York, I launched this blog in 2011. That same year, I landed multiple modeling projects and my first indie film—all while working as a freelance journalist in the Philippines.
These days, you will find my byline in Cosmopolitan, Spot, and other publications. I continue to act and model on the side. Like most Filipino travelers, I always buy pasalubong for my clan and can pack a sturdy balikbayan box. I go home to seven rescue dogs and eight rescue cats. In my free time, I volunteer as an advocate of mental health awareness and animal welfare.
Why do I travel?
1. To heal.
I was diagnosed with general anxiety disorder in 2011. Months after my fiancé passed away in 2012, I was diagnosed with major depressive disorder. I have been battling this ailment for years now. Traveling clears my mind and replenishes my spirit. I have survived.
2. To be my true self.
Growing up in a strict and overprotective Filipino family has its struggles. I live in a small town with old-school values and extreme beliefs that are considered normal in the Filipino society. While I love my family and respect my culture, I never belonged in this "normalcy."
I don't believe that women should be subservient to men. I don't believe that getting married and having children are the only options that define women. I don't adhere to traditional gender roles. I don't believe that one religion is better than the other.
Travel connects me with like-minded individuals—free spirits who don't follow a straight path; those with a global, modern-meets-cultural approach to life. Whenever I travel on my own, I am my true and unfiltered self.
3. To tell stories.
Next to performing, writing is my passion. I have been writing since I was a little girl. I travel to escape my sheltered life and learn about the world. It brings me joy to turn my adventures and experiences into words for others to read and learn from.
What's your travel story?
Love, peace, and light,
Kate
As seen in: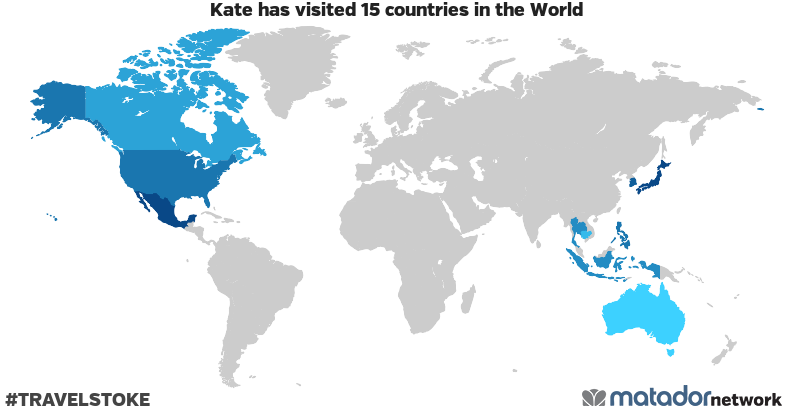 Kate has been to: Australia, Cambodia, Canada, Guam, Hong Kong, Indonesia, Japan, Macao, Mexico, Philippines, Singapore, South Korea, Thailand, United States, United States Minor Outlying Islands.
Get your own travel map from Matador Network.