About
Welcome to Kate Was Here, a blog about travel, beauty, and quirks.
The year 2007 was a defining point in my life. Working at what I thought was a dream job as fashion and beauty editor, I realized I had bigger dreams of traveling. It wasn't as easy as packing my bags and jet-setting around the globe. Growing up in a strict and overprotective family, and not to mention, having a Filipino passport that requires a VISA to most destinations in the world, my itch to travel tested my commitment. But my gut told me I just had to do it.
I started with New York, a city I'd never been to in my life. Amidst getting lost in dark alleys, renting an apartment with strangers, getting cast for a Broadway talent agency, and nearly getting harassed in broad daylight, I grew up. I returned to the Philippines a stronger woman and smarter traveler.
Back in Manila, I struggled with finding a job that didn't require being in an office from 9-5. I wanted to build my ultimate dream: a multi-faceted career of lifestyle journalism, modeling, acting, and my passion for travel.
I launched this blog in 2011, the same year I landed multiple modeling projects and my first indie film—all while working as a freelance journalist in the Philippines.
My younger self would be proud to see that I busted out of my comfort zone and built a life outside the box.
I currently work as a freelance lifestyle journalist. I contribute regularly to Cosmopolitan, Spot.ph, and other publications. I continue to act and model on the side.
These days my interests include: coffee shops, Yoga, festivals, musicals, collecting quirky things, shading off my travel map, and playing with makeup. I'm not ashamed to admit that after all these years, I still buy magnets whenever I travel. Like most Filipino travelers, I buy loads of pasalubong and can pack a sturdy balikbayan box. I go home to 7 rescue dogs and 8 rescue cats. In my free time, I volunteer as an advocate of mental health awareness and animal rights. I enjoy telling stories, so I hope you'll like the ones you'll find here.
Ever since I lost my fiancé in 2012 and my father in 2015, I've been living my life as one endless bucket list. You never know when it's your time go, so stop waiting for the "perfect" opportunity to climb that mountain or travel solo. Pack your bags now and just go.
Love, peace, and light,
Kate
As seen in: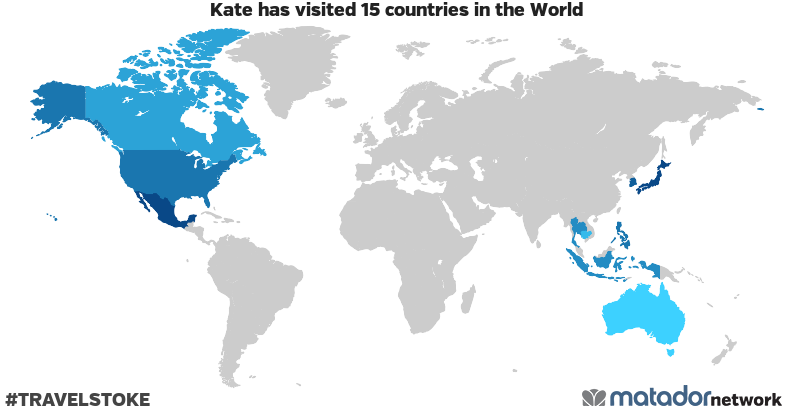 Kate has been to: Australia, Cambodia, Canada, Guam, Hong Kong, Indonesia, Japan, Macao, Mexico, Philippines, Singapore, South Korea, Thailand, United States, United States Minor Outlying Islands.
Get your own travel map from Matador Network.