One thing about travel is that pictures don't always do justice to a place. Take for example Fundacion Pacita Batanes Nature Lodge. I thought I knew what to expect when I first visited the most expensive lodging in Batanes, thanks to first-hand stories filled with superlatives and highly saturated photos from photographers and bloggers.
But there were so many things these photographs and stories didn't prepare me for. They didn't prepare me for the moment I first laid eyes on the Pacific Ocean from the veranda of the Pacita residence. They didn't prepare me for the child-like wonder that made my heart feel alive as I explored the gardens and pathways, looking for pops of blue wooden furniture that the late Pacita Abad placed around her property.
The globally acclaimed artist passed away in 2004, but her art is alive and thriving, not just around Fundacion, which now houses thousands of her works, but all over Batanes where you'll see influences of her gypsy-style art.
Though we booked another accommodation in the lower part of town, Pacita's niece Patsy welcomed us (she has friends in my tour group) to Fundacion and graciously hosted a full course dinner for us at the newly renovated Café Du Tukon. They had just flown in chefs from Manila to train their staff, and we sampled the latest additions to their menu. Thank you, Patsy!
I asked Patsy what it's like living in this lush paradise on the northernmost part of the Philippines, where Internet connection is intermittent and modern infrastructure isn't part of the norm. "It has its ups and downs, but mostly ups," she said. She graduated from my alma mater, Ateneo De Manila University, and now works for the family business.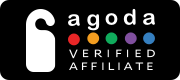 If not for the poor internet connection in Batanes, I would consider leaving my life in Manila to live here for a few months. I imagine writing and online editing from here. I could just email my work to my editors, while taking a part-time job as someone's gardener, tour guide, or innkeeper.
For now Batanes remains my favorite spot in the Philippines, and Fundacion Pacita, a peg for my future home.
Fundacion Pacita is located at Brgy. Chanarian, Tukon, Basco, Batanes 3900.
Date of visit: April 9, 2015