It has the quirks of a backpacker lodge, the amenities of a boutique hotel, and the price of a budget hotel. That's a dream come true for budget travelers who don't want to stay in hostel dorms.
Welcome to MoMo's Kuala Lumpur, launched in 2020. It's the younger, more rebellious sister of The Chow Kit – An Ormont Hotel next door. Located in the neighborhood that big sis is named after, MoMo's is oozing with personality. It was designed by Sydney-based Akin Atelier to feel like an experiential gallery.
It's slightly hidden by an overpass and some greenery, so finding this social hotel—as the management describes the place—feels like uncovering a secret tavern.
A wash of green gives the building a trendy feel, while pops of pink—in the form of lighted neon signages and coffee tables with matching chairs—are scattered outside. The industrial chic design will make you feel like you're about to enter an old establishment that was turned into an art studio, which I noticed is a popular style around KL [see REXKL Bookstore]. By the entrance is MoMo's Caffeine Corner, which is open to all.
What looks like a wall-to-wall window turns out to be a flamboyant half-revolving door that welcomes you to MoMo's. To the left is the resto-bar called Momositi, which used to be called MoMosita Taco Bar. To the right is the casual concierge.
The walls are full of posters. They're printouts of events that have happened or are about to happen in MoMo's. Boy band karaoke night? That brings tingles to this Backstreet Boys fan. Singles Night on Valentine's Day? I'd think about it. "Trivia Night: Boomers Vs. Millennials" sounds like a hoot! Other events include stand-up comedy, open mic nights, parties, food pop-ups, live music, and other performances. The location is at The Playground, MoMo's open-plan space. Just look for the orange zone.
Each pop-art poster is thoughtfully designed. Think Nylon Magazine in the mid-aughts. It's like I'm on campus looking at a gigantic bulletin board, but instead of yawning at the boring classes and seminars, it's full of fun extra-curricular activities I don't want to miss.
As you enter the hallway towards the elevator, more posters will catch your eye. Inside the elevator are—you guessed it—even more posters!
The dining area on the ground floor is for the guests of the hotel, walk-in diners who are just there to eat after seeing the trendy burger poster outside, or, like me, The Chow Kit Hotel guests who found the secret door to MoMo's. It works both ways. Momo's guests can go through the secret entrance to have breakfast at The Chow Kit Hotel.
But this is no Mad Monkey party hostel. Outside are foreign guests from ages 25-50 having a chill coffee break. Inside, millennials and Gen Z peeps are having a meal. One standout poster, "Trivia Night: Boomers Vs. Millennials," says it all.
As for the rooms, there are no crowded dormitories where cash-strapped backpackers pay for just a bed. Here you'll have to book the entire room. Their room tagline is: 99 rooms and a suite ain't one. Witty.
There are bunkbed rooms, crash pad rooms (double beds), and twin beds on a Tatami-style raised platform. Maximum occupancy for each room: two humans. Room rates start at an affordable RM110 (₱1400) per night, breakfast not included. Amenities per room include a TV with international channels, a hairdryer, and a safe. The minimalist space has cute nooks for your personal items. As for your backpack or luggage, just park it on the floor or platform. At least you know the room is private. No need to stuff your luggage into a tiny locker and pray that no one breaks into it.
There's no gym (What kind of creature goes on vacation and hits the gym? Not me!) or pool, but there is a roof deck where you may catch a free Yoga class or other events. And no, you don't have to share a bathroom with strangers. You get your own bathroom with designer toiletries in refillable pump bottles (not to be taken home!).
The "social" part comes with their weekly events and the resto-bar that serves diner-style food and drinks. Choose from their burgers, hotdogs, pasta, greasy sides, milkshakes, mocktails, and bar drinks. The menu was revamped after the pandemic.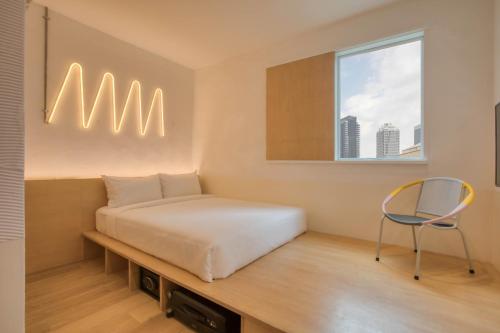 There are plenty of fun and games to make you feel like you're in an interactive hostel, but enough privacy for you to feel the boutique-ness.
We need more social hotels like MoMo's.
Momo's is located at 16 Jalan Tuanku Abdul Rahman, Chow Kit, Kuala Lumpur, Malaysia. Tel. no. +603-2776-6666. For more info, visit their website at stayatmomos.com.
Read more about my Malaysian adventure at Spot.ph: